Quotes about Trying: Looking for some motivational quotations about attempting new things? We've compiled the best selection of quotations about doing new things, complete with sayings, proverbs, subtitles (as well as quotes about trying with pictures and images) to inspire you.
With the same routine day in and day out, life can become dull and tedious. Your creativity and zeal for life will be sapped as a result of this. Step outside of your comfort zone and attempt new activities to add a feeling of adventure to your life.
It may appear intimidating at first, but with practice, you will overcome your fears. Here are some motivational quotes about trying new experiences.
Short Quotes About Trying and Failing
"Just don't give up trying to do what you really want to do. Where there is love and inspiration, I don't think you can go wrong."

@Ella Fitzgerald

♨️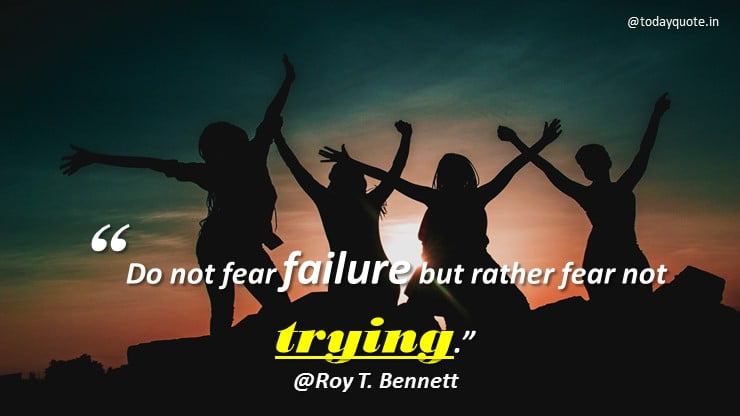 "If you go about trying to please everyone, there's going to be endless struggles."

@Sonny Bill Williams

♨️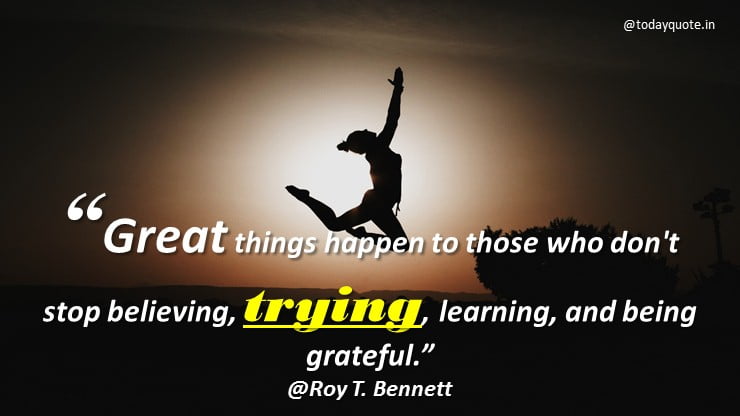 "I'm not trying to be different. To me, I'm just being myself."

@Jaylen Brown

♨️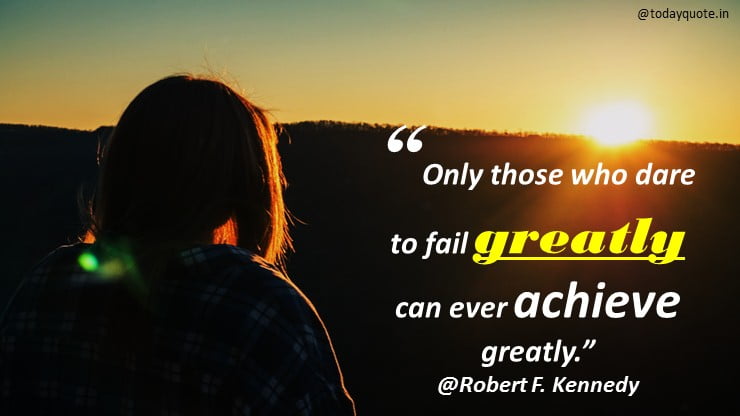 "I'm always looking forward and trying to improve."

@Santan Dave

♨️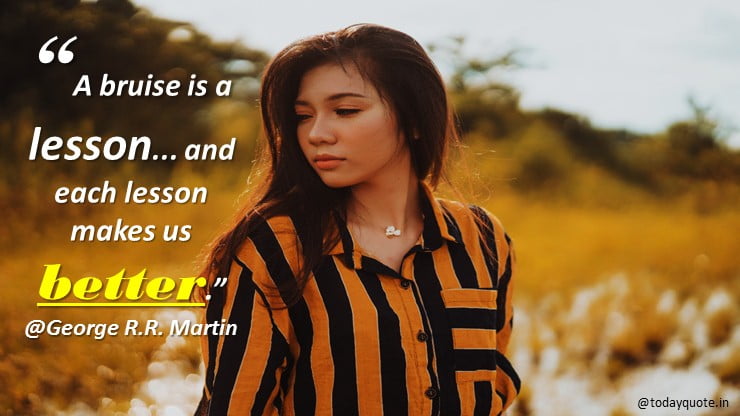 "Right now I am trying to be in a place of calm, a place where I can chill out and then handle the chaos of life better. You don't just get it overnight; you have to work at it. It's a daily struggle."

@Jackee Harry

♨️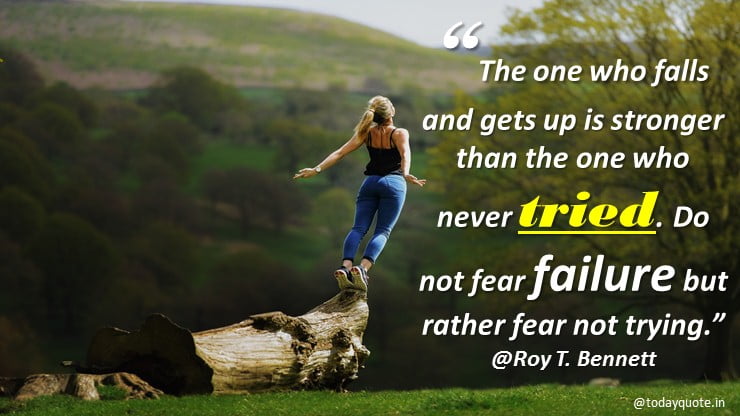 "I'm not perfect. I'm never going to be. And that's the great thing about living the Christian life and trying to live by faith, is you're trying to get better every day. You're trying to improve."

@Tim Tebow

♨️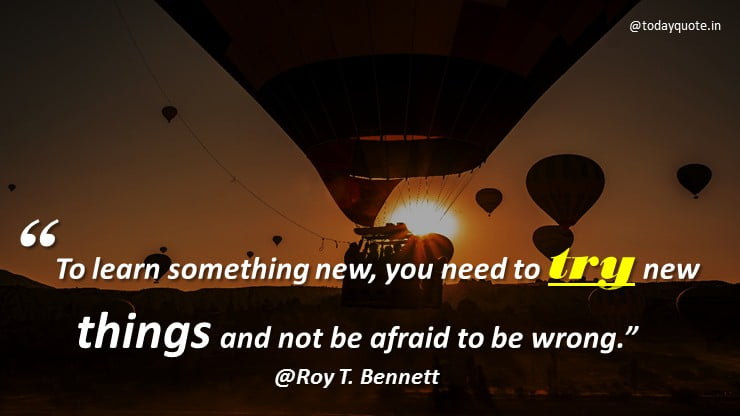 "Don't let fear or insecurity stop you from trying new things. Believe in yourself. Do what you love. And most importantly, be kind to others, even if you don't like them."

@Stacy London

♨️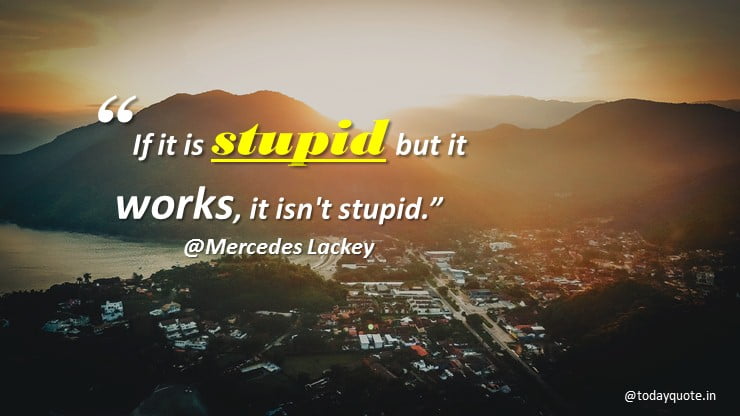 "When things don't go your way, you've got to keep trying to do the right things."

@Dele Alli

♨️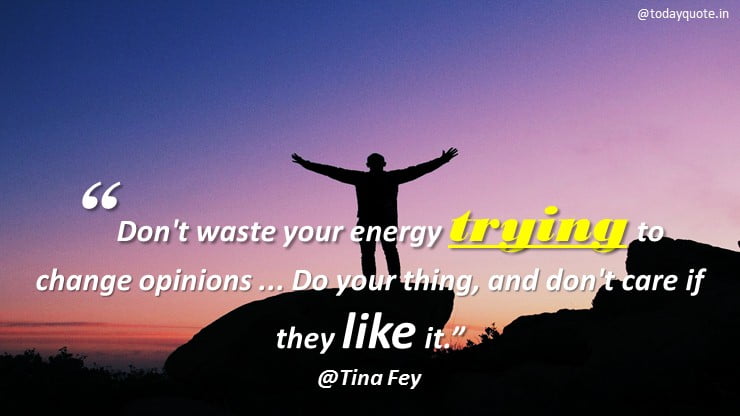 "The thing is that love gives us a ringside seat on somebody else's flaws, so of course, you're gonna spot some things that kinda need to be mentioned. But often the romantic view is to say, 'If you loved me, you wouldn't criticise me.' Actually, true love is often about trying to teach someone how to be the best version of themselves."

@Alain de Botton

♨️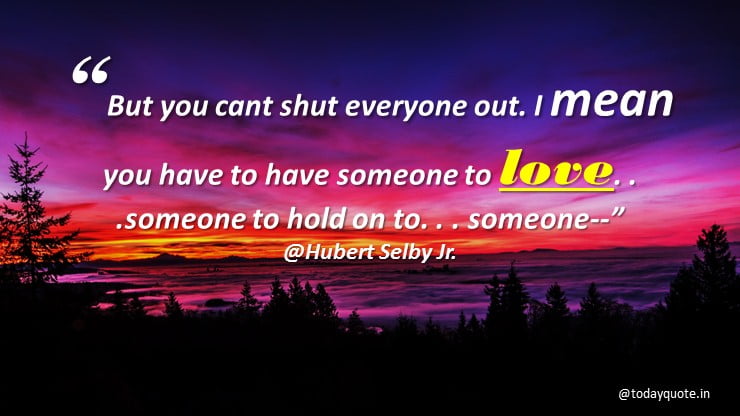 "I'm constantly trying to look at things from a different view and to put myself into some new perspectives to evolve myself, grow myself, and reinvent myself."

@Kali Uchis

♨️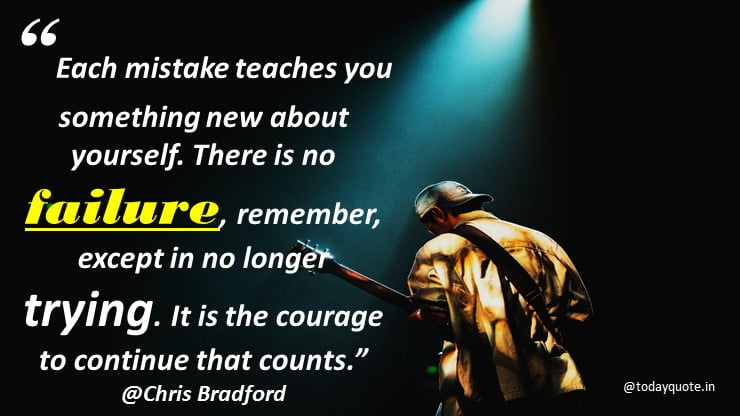 "It's a long road, so we are just trying to stay focused and grounded and keep moving forward. I'll take it, though."

@Sturgill Simpson

♨️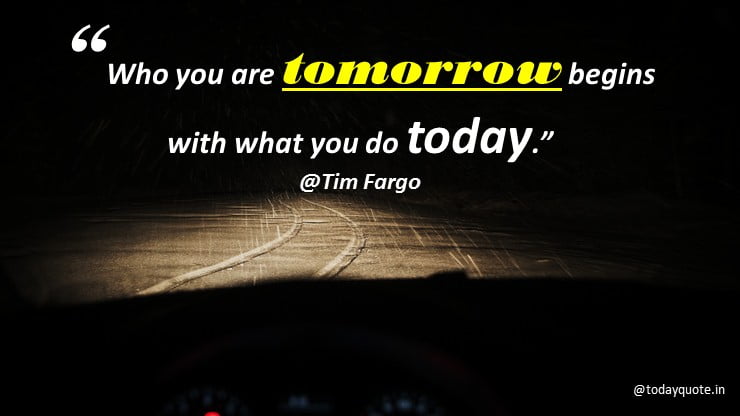 "Other states are trying to abolish the death penalty… mine's putting in an express lane."

@Ron White

♨️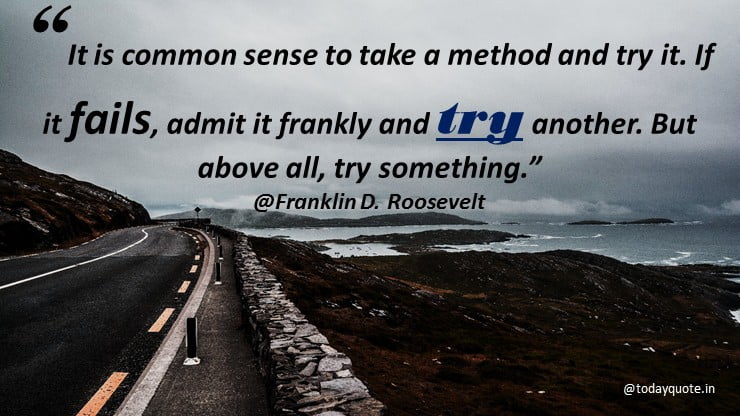 "The good part about getting older is you stop trying to prove anything to anyone, including yourself. All you are in the pursuit of is collecting experiences – beautiful, fragile little soap bubbles that you store in your heart, and every once in a while you pull one out and gaze at the delicate pictures it shows you."

@Twinkle Khanna

♨️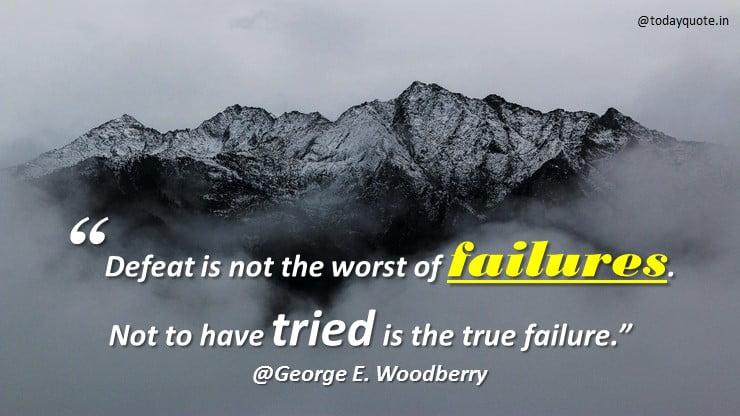 "If you don't make mistakes, you aren't really trying."

@Coleman Hawkins

♨️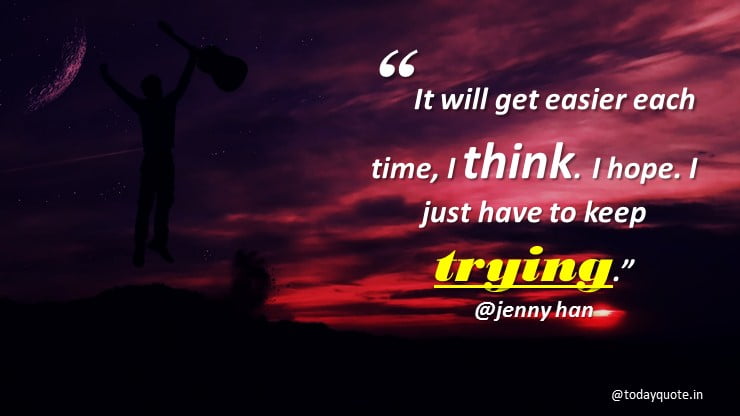 "The proper function of man is to live, not to exist. I shall not waste my days in trying to prolong them. I shall use my time."

@Jack London

♨️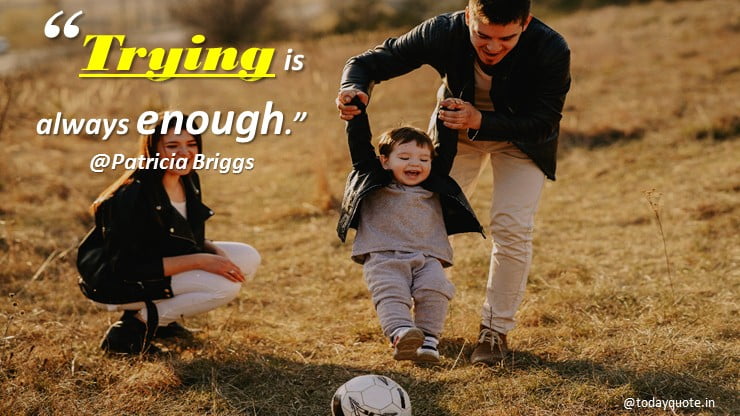 "There is a comfort in rituals, and rituals provide a framework for stability when you are trying to find answers."

@Deborah Norville

♨️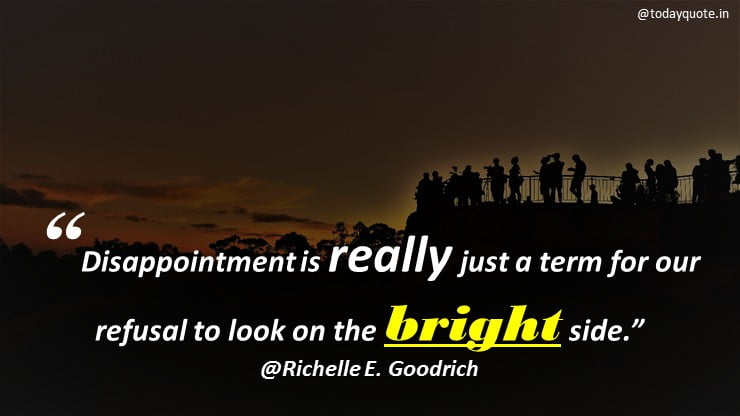 "Fundamentally, footballers don't look around a dressing room and think, 'He's a black player… he's Japanese.' They don't think like that. They think, 'He's a good player; he can help. He's not very good.' I'm not trying to defend anyone's actions, but there are going to be isolated incidents because it's an emotive, passionate sport."

@Gary Lineker

♨️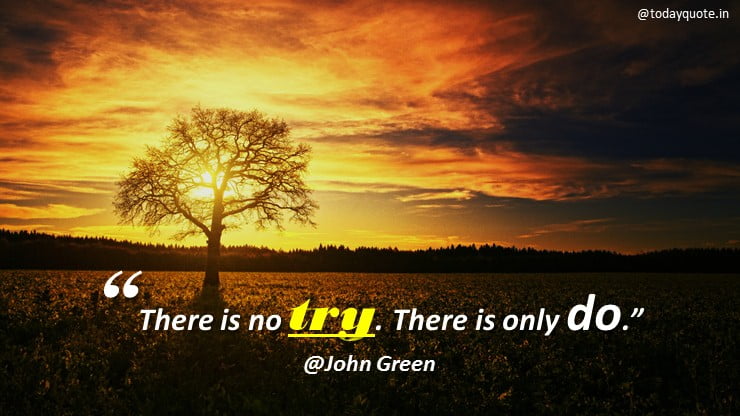 "War is cruelty. There is no use trying to reform it. The crueler it is, the sooner it will be over."

@William Tecumseh Sherman

♨️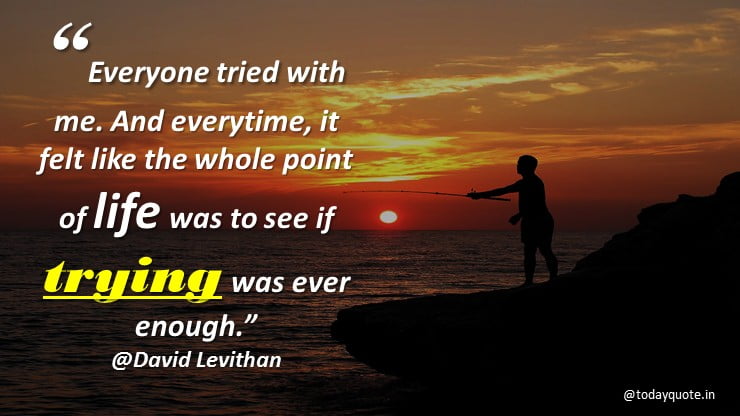 "People are trying to act like they're balling all day with cars, their house like there's no problems. I feel like a lot of people are trying to be someone they're not, and when you're just yourself, life is so much easier because you don't have to keep up this facade."

@Remy Ma

♨️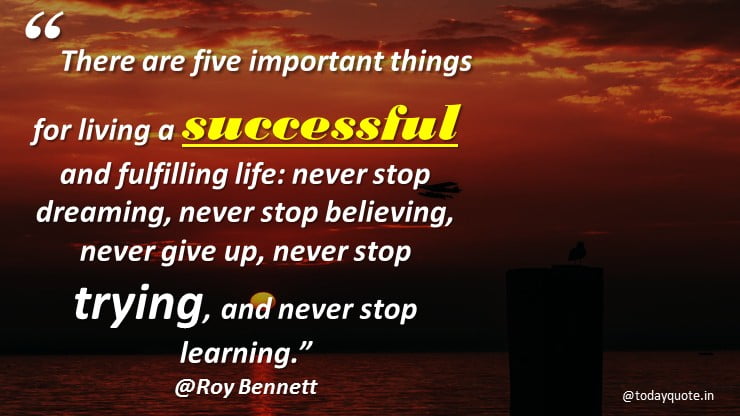 "A winner never stops trying."

@Tom Landry

♨️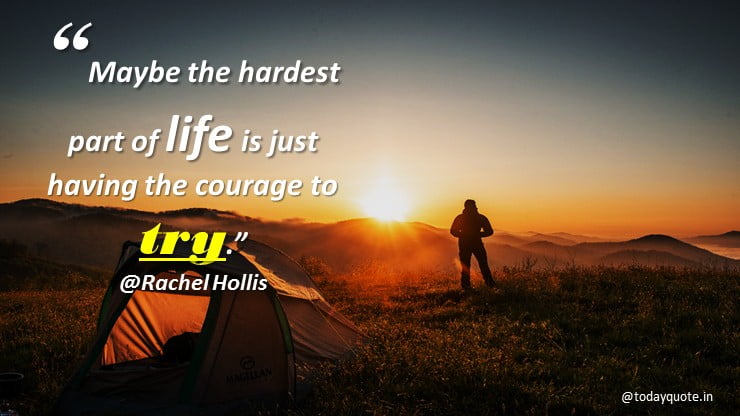 Quotes About Trying Your Best
"The oceans are more or less in disrepair. Long Beach really is making an effort to acknowledge this, and that's a great place to start. I'm trying to spread at least the knowledge that it's never too early to take care of our oceans and our environment."

@Aaron Peirsol

♨️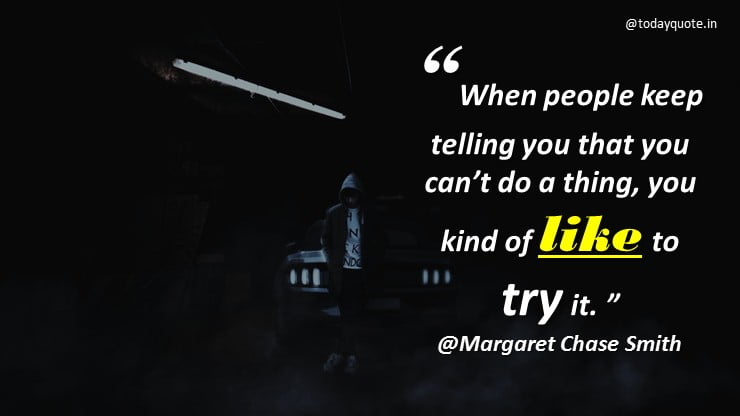 "If you begin to understand what you are without trying to change it, then what you are undergoes a transformation."

@Jiddu Krishnamurti

♨️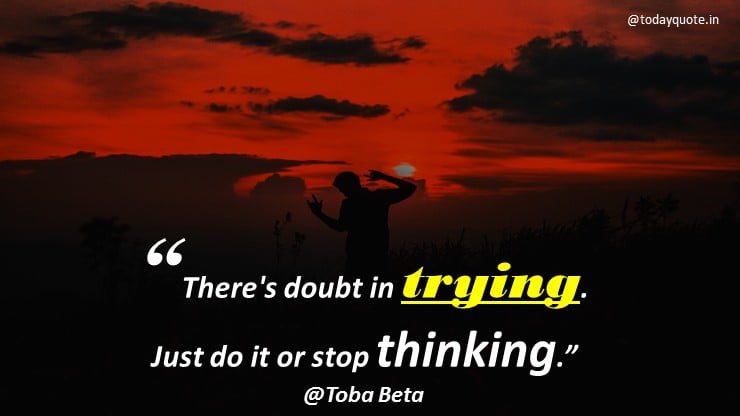 "My first ballet class was on a basketball court. I'm in my gym clothes and my socks trying to do this thing called ballet. I didn't know anything about it."

@Misty Copeland

♨️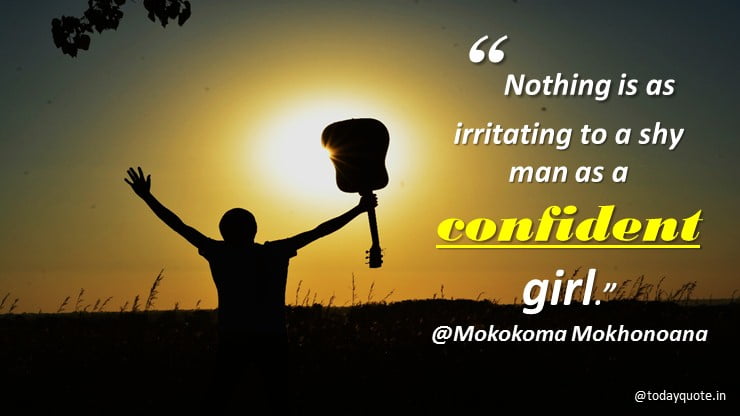 "My dream is to be a doctor. I'm almost working in a laboratory because I'm trying new techniques, new directions, and fabrics, new weaving."

@Alber Elbaz

♨️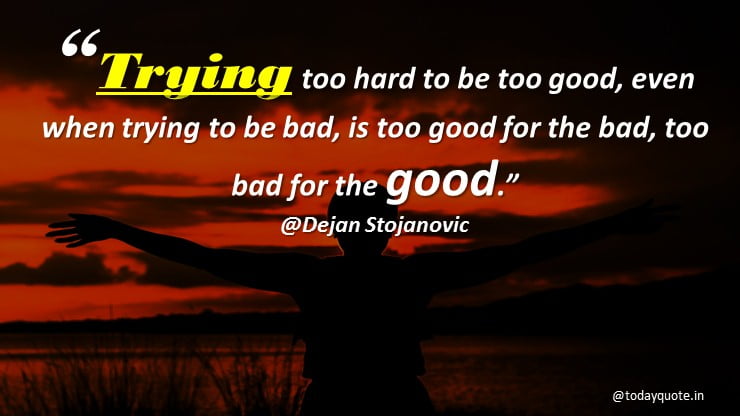 "I spent two years day and night in that studio trying to learn what the hell was going on."

@Max Martin

♨️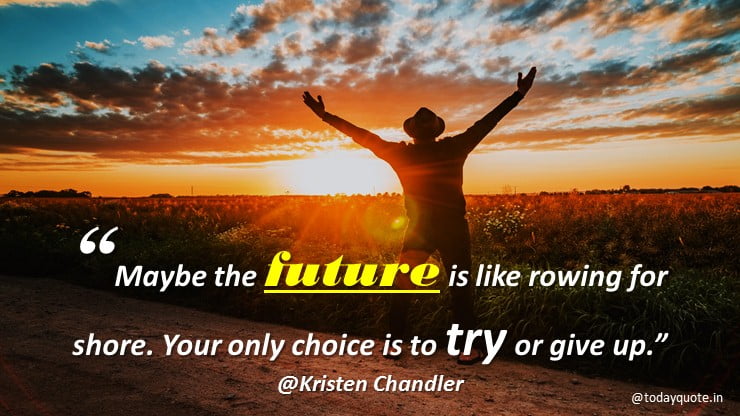 "I'm trying to get people to see that we are our brother's keeper. Red, white, black, brown or yellow, rich or poor, we all have the blues."

@B. B. King

♨️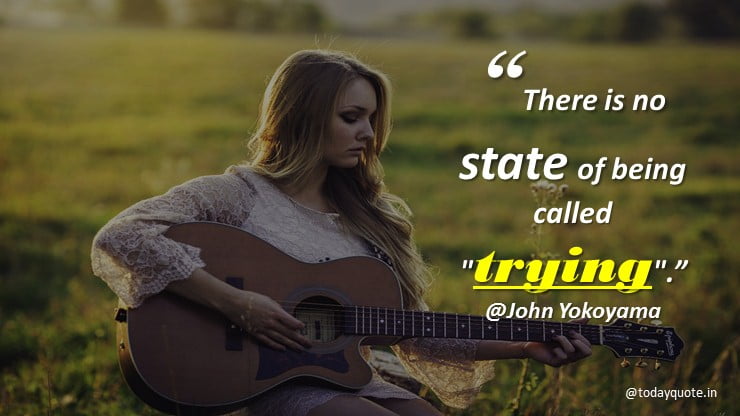 "I miss a lot of things; that's the price one pays for stardom. I miss standing in queues, buying tickets, and watching films first day first show. It isn't the same going to preview theatres or multiplexes and trying to stay incognito."

@Nani

♨️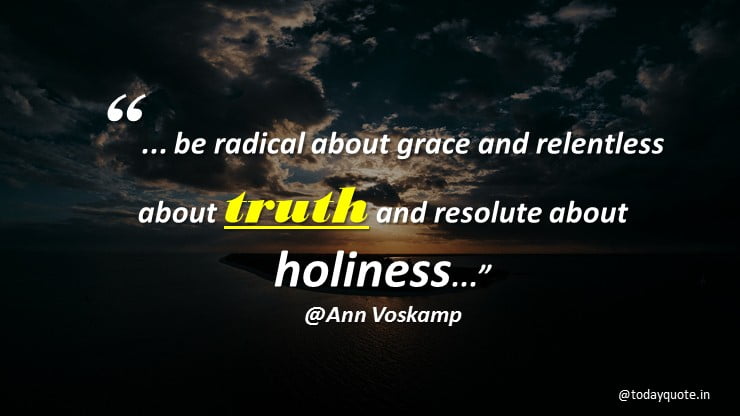 "I think we all suffer from acute blindness at times. Life is a constant journey of trying to open your eyes. I'm just beginning my journey, and my eyes aren't fully open yet."

@Olivia Thirlby

♨️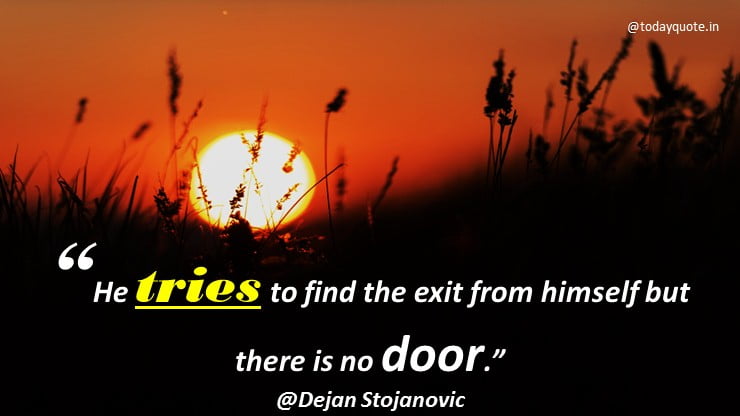 "There's no medals for trying. This isn't like eighth grade where everybody gets a trophy. We are in a professional sport, and it is competitive to win. That's what we do."

@Bill Belichick

♨️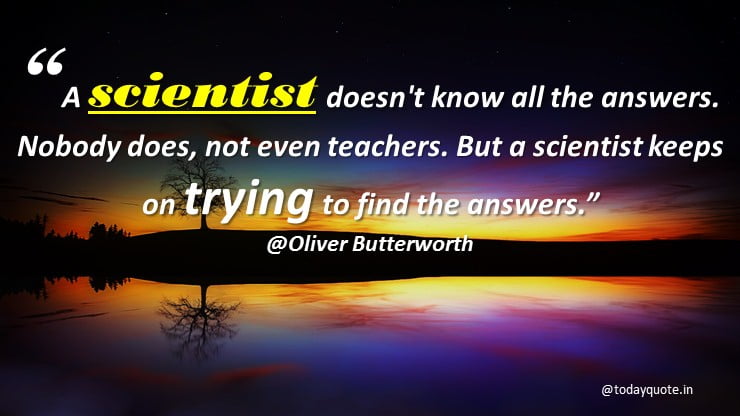 "I love new restaurants; I love trying out new foods."

@Monica Seles

♨️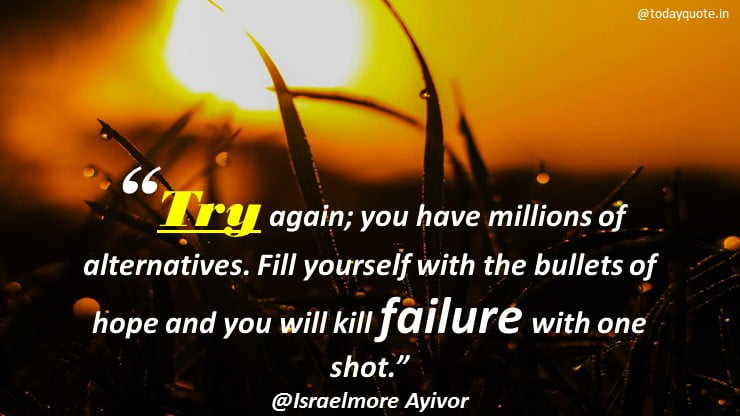 "I've never believed much in that holding hands kind of love. I've always thought that love is about two different personalities trying to confront life, trying to make sense of their responsibilities, to themselves, to each other, and to the wider society."

@Alan Bates

♨️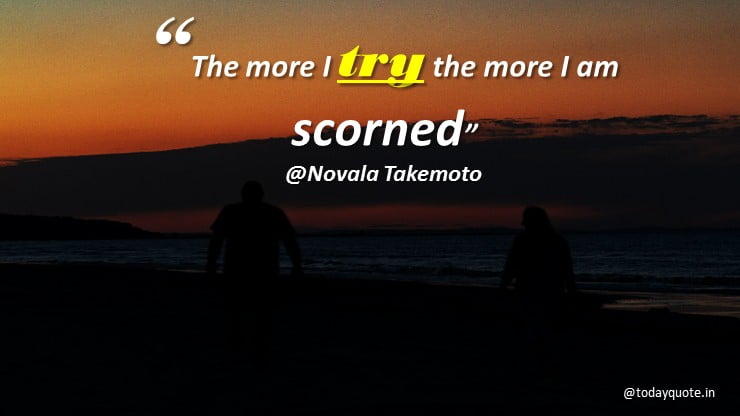 "Women are more open to trying on a new personality every season; they can go from goth to bombshell to librarian, whatever."

@Michael Bastian

♨️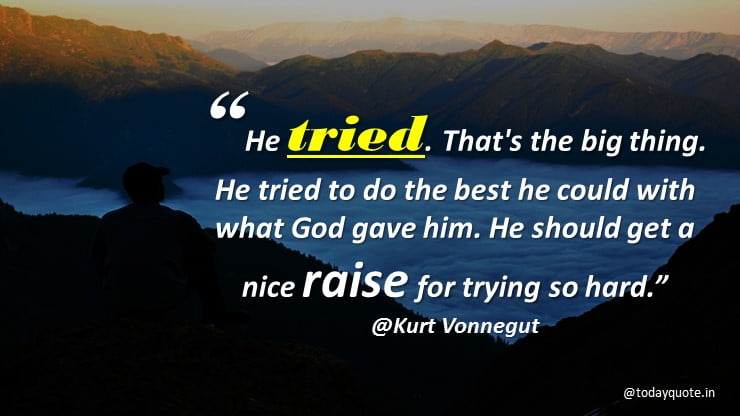 "I'm an entrepreneur trying to let the American people know that it's not immigrants that are causing economic problems, it is the fact that our economy is advancing in ways that is making human labor less and less essential."

@Andrew Yang

♨️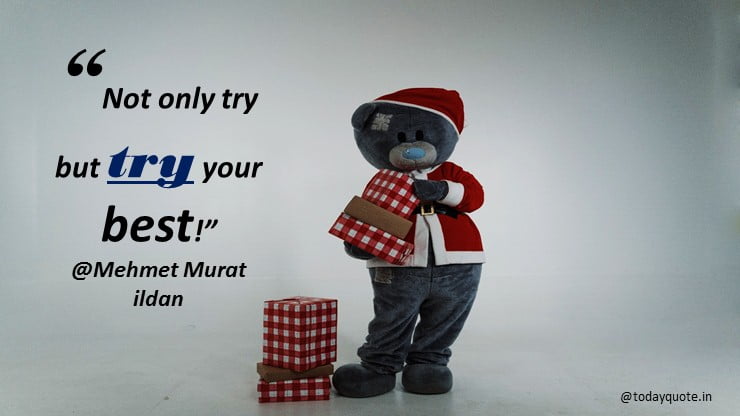 "I don't think people really understood what I did. And you know, in my book, 'A Helluva High Note' deals with my back story, that I was a songwriter, that I spent years trying to hone my craft and being rejected and then finally becoming a successful songwriter, record executive, and publisher."

@Kara DioGuardi

♨️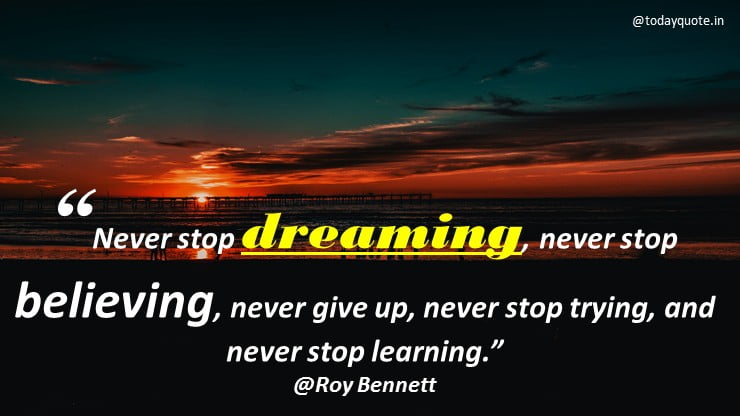 "You have days where you're trying to be your best, and you say something, and you see it being written in three different places and in a way that you didn't mean for it to be interpreted. But you just try to do your best. You kind of just have to let everything else roll off your back."

@Abby Huntsman

♨️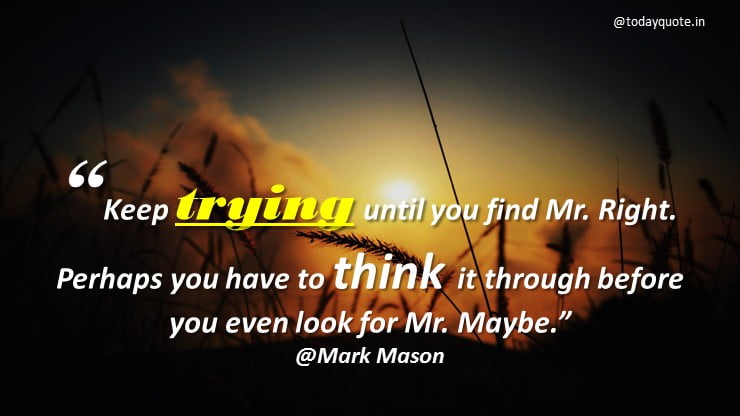 "As a parent, you just want to really make sure your kids understand what you are trying to say as much as their maturity level will allow them to."

@Mike Daniels

♨️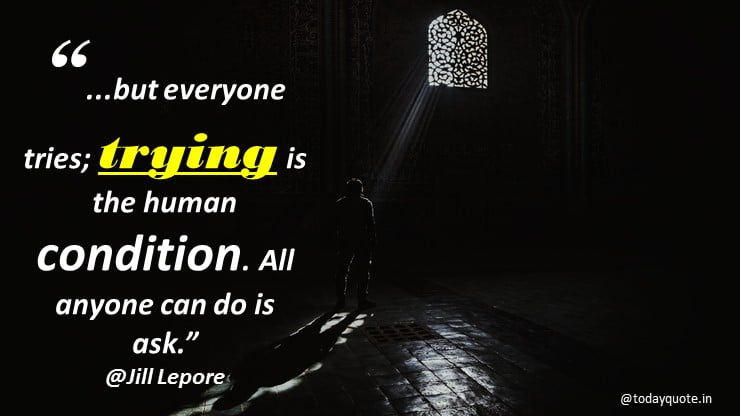 "I always thought I'd go to university and then get a real job, you know. Now I want to do stuff that really makes me happy. Although I'm still trying to work out what that is. But for me, there are always constants."

@Martin Henderson

♨️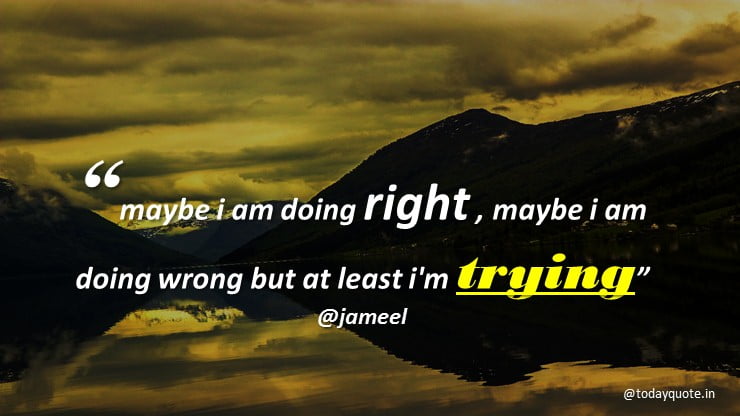 "They're trying to tell us that we're not right, so we have to buy their products. The number one cause of mental illness is not knowing who you are and you can't know who you are if you don't spend time honoring yourself, and living in the present."

@Naomi Judd

♨️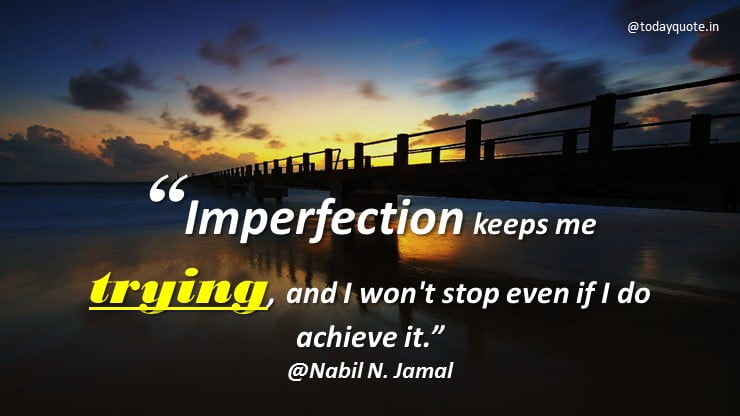 "Yes, it's a very difficult thing to do, to promote a record, do television shows, and still want to remain private, it's really quite difficult to explain to people what you're trying to do. I mean I'd actually quite like to be a recluse, but you know, you've got to promote the record as well."

@Chris Lowe

♨️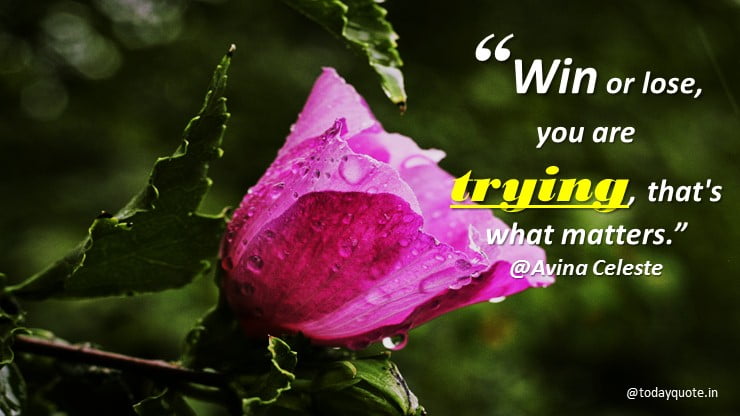 "We are trying to make up these other elements by gaining cost efficiencies through our reengineering process and through overt fund-raising activities to better support graduate education."

@Charles Vest

♨️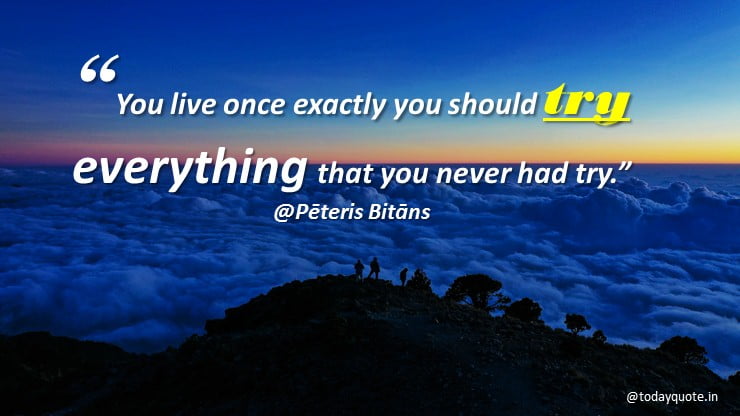 Quotes About Trying Something New
"In a way, the truth is that I was dreaming to do a movie in the United States just because, as a filmmaker, I always loved the idea of trying to make movies in a different culture, in a different way. It's always interesting to make a movie abroad."

@Denis Villeneuve

♨️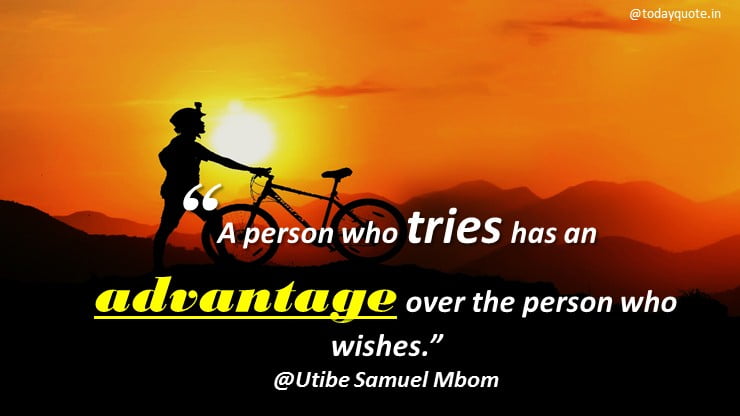 "There's always hope in 'The Fosters.' These are fundamentally good people who are all trying their best and making some terrible, terrible decisions, but they're trying their best. And there's always hope for those people."

@Peter Paige

♨️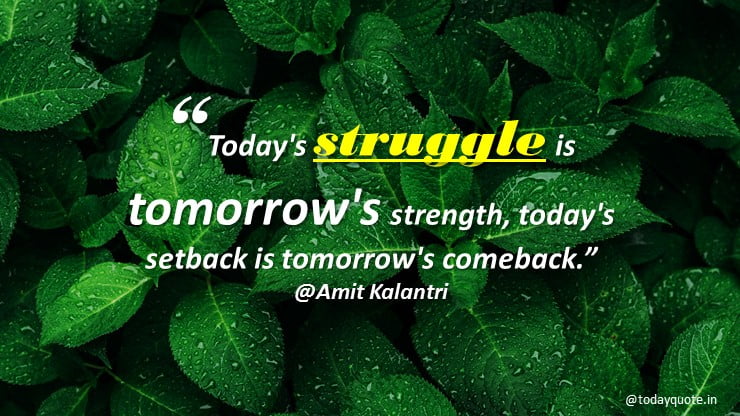 "I think that art is still a site for resistance and for the telling of various stories, for validating certain subjectivities we normally overlook. I'm trying to be affective, to suggest changes, and to resist what I feel are the tyrannies of social life on a certain level."

@Barbara Kruger

♨️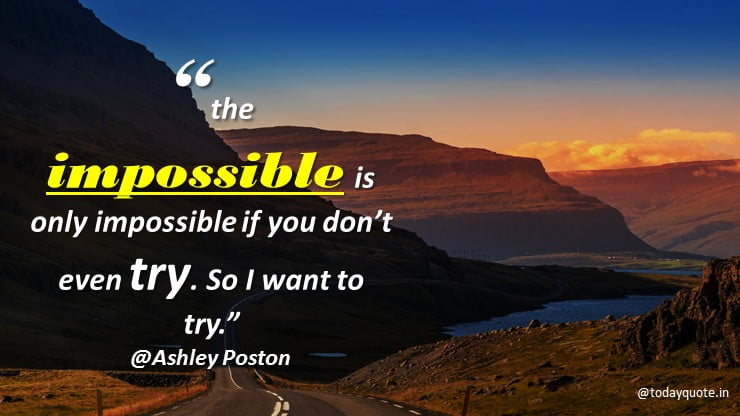 "There's always going to be obstacles and people that doubt you. So it's about proving people wrong and bettering yourself and trying to be the best you."

@Kyle Kuzma

♨️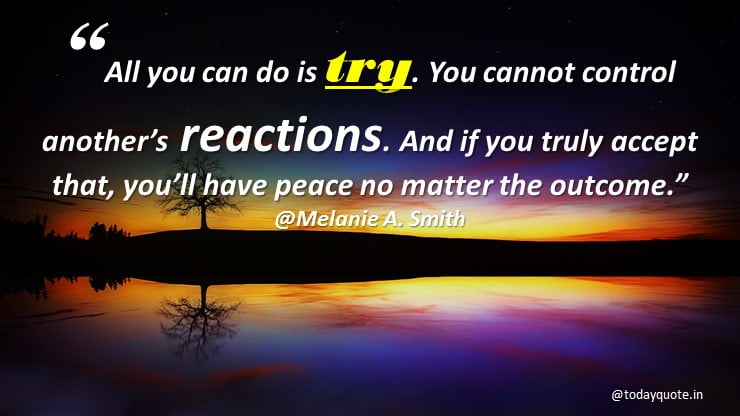 "It's so easy to become obsessed with the film industry and recognition that we can forget that we are not saving the world. We are just actors trying to entertain people."

@Charlie Cox

♨️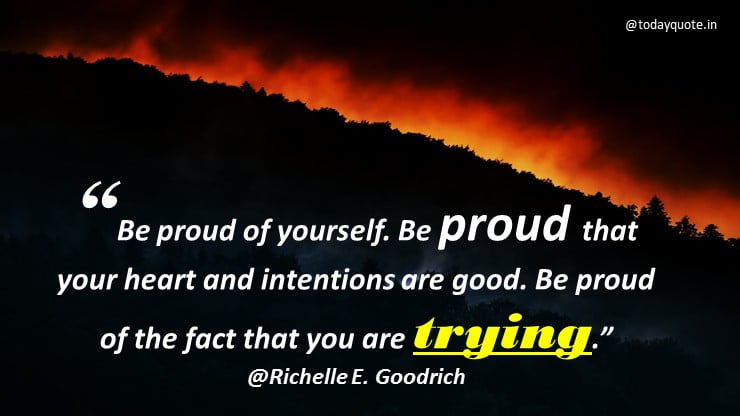 "Sometimes people think that regulating their emotions means trying to act as if they don't have feelings. But, that's not the case. A realistic view of emotions shows that we're capable of experiencing a wide range of emotions, but we don't have to be controlled by those emotions."

@Amy Morin

♨️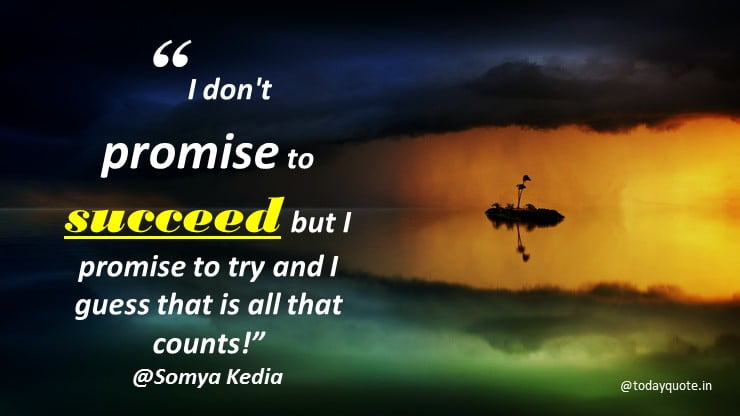 "I'm trying to be a throwback player and only stick with one team."

@Jabari Parker

♨️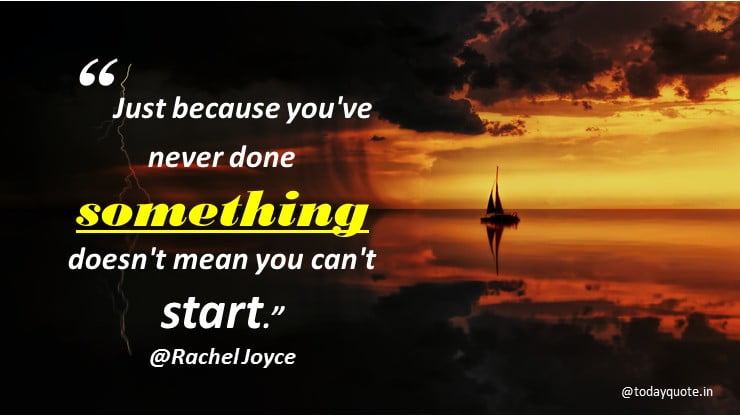 "Anytime you're out there in between those ropes, you always have to worry about fatigue. If you think about it, people get tired just doing cardio. You get tired of doing cardio just by yourself. Now imagine running around, picking somebody up, picking you up, trying to pin you, trying to hold you down. It gets very tiring."

@Roman Reigns

♨️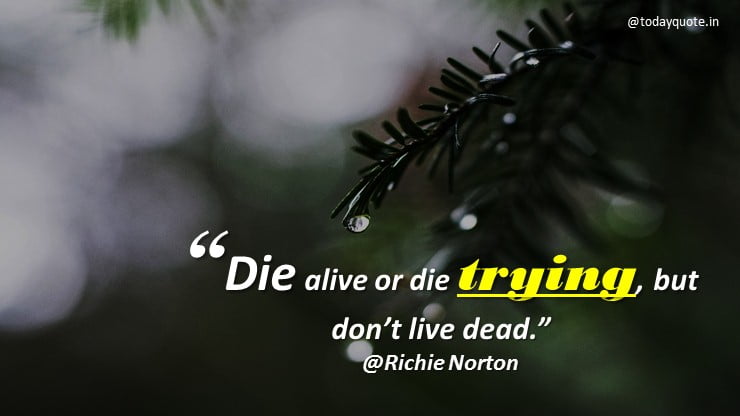 "I'm simply trying to tell the truth about human behaviour as I see it."

@Sarah Kane

♨️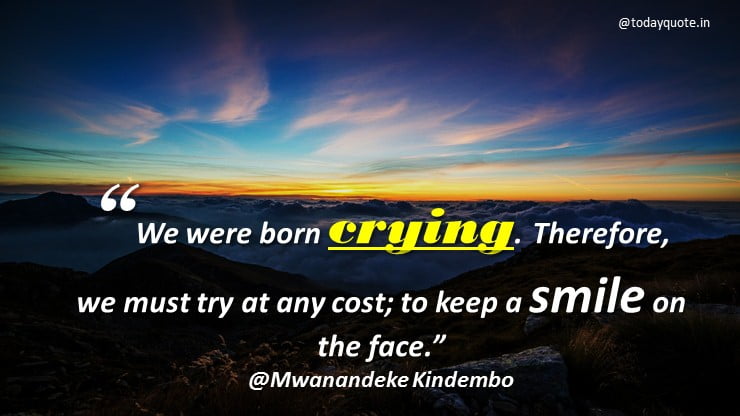 "I feel really ambiguous about the psychology of people trying to do good in the world."

@Alexei Sayle

♨️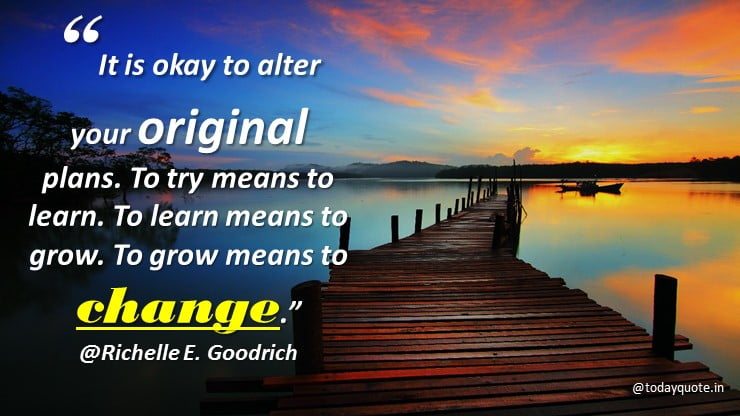 'The Lucky One' features a young concentration camp survivor named Peter Rashkin – who's about the age my dad was when he started at CBS – working at the Oyster Bar, trying to acclimate to his new country and outrun the memories of the daily he left behind."

@Jenna Blum

♨️
"We are trying to build a family image of wholesome movie entertainment."

@William Hanna

♨️
"I will respect the limits of my experience but that won't stop me from trying to lead by example of my work. Being a good teammate and picking them up on and off the field is a simple goal of mine."

@Anthony Rizzo

♨️
"I see it every day: People trying to create a home that somebody else tells them they should have. I don't care if it's a magazine or a bossy friend – when somebody says, 'This is what's elegant, this is what's trendy,' if it doesn't represent you, you're not going to be happy."

@Nate Berkus

♨️
"A lot of guys are starting to get away from trying to jerk these heavy weights and throw all these heavy weights around."

@Jake Arrieta

♨️
"I didn't agree with what Joe McCarthy was trying to do, but I sure did admire his methods."

@M. Stanton Evans

♨️
"From the moment I open my eyes, I'm trying to free my body. I'm trying to get looser, more flexible, to gain control. Movement is medicine to me."

@Conor McGregor

♨️
"Most of the time I spend when I get up in the morning is trying to figure out what is going to happen."

@Madeleine Albright

♨️
"I get tired of people trying to dog out the radio for not playing this or that. There are lots of people who like what they play – otherwise, they wouldn't play it."

@Chris Stapleton

♨️
"Every time I get a script it's a matter of trying to know what I could do with it. I see colors, imagery. It has to have a smell. It's like falling in love. You can't give a reason why."

@Paul Newman

♨️
Quotes About Trying New Things
"If you're an unattractive girl who's trying to be beautiful with Botox, forget it. If you are a beautiful girl who's trying to be beautiful with Botox, you will look like you're angry all the time."

@Stevie Nicks

♨️
"Love is bumping along together with the people in your life and making mistakes and trying to make them right by virtue of the fact that these are people you actually love; you care about them enough to muddle through it with them."

@Becky Albertalli

♨️
"I'm trying to make work that is reflective and is encouraging of reflection."

@Antony Gormley

♨️
"All of my babies know that I preach all day… I ain't trying to hide no light under no bushel. Everybody needs a little light in their life, and when they need prayer, they know where to come because they know I love them all, and I ain't judging nobody."

@Betty Wright

♨️
"For me, happiness is doing my best and trying to be helpful."

@Ken Kercheval

♨️
"I was trying to maintain a facade of infallibility, which is exhausting. Like, I used to wear tons of makeup because I had bad skin. I couldn't go out in public without makeup on."

@Mike Posner

♨️
"People that could yodel always fascinated me. People that could sing loud always fascinated me. So I started trying to mimic at a really young age: 6, 7 years old."

@Brandi Carlile

♨️
"The vast majority of small business owners want nothing to do with figuring out a website. They are neck-deep in their business trying to keep it going."

@Andrew Yang

♨️
"It's not like suddenly when you become a working actor all your friends are in the same situation. I have friends who are still handing out flyers for their one-woman show and trying to make ends meet."

@Nia Vardalos

♨️
"I like to think that I'm trying to choose love over most things, but that's my choice."

@Seal

♨️
"I've always had questions about what it meant to be a protester, to be in the minority. Are the people who are trying to find peace, who are trying to have the Constitution apply to everybody, are they really the radicals? We're not protesting from the outside. We're inside."

@Gil Scott-Heron

♨️
"If you can improve your franchise, even if you're doing well, you're going to make that move. You just are – at least I am. It's about winning and winning the right way and trying to sustain success over a large period of time."

@Jim Irsay

♨️
"The mind is a funny thing in how it works. Sometimes you have to tell yourself what's really true. If you don't, your mind starts trying to tell you lies."

@Case Keenum

♨️
"The bonding of the team is exceptionally important and trying to create a good team spirit and to have some fun."

@Sam Allardyce

♨️
"I used to get stuck trying to find the first sentence of a story, then I realised that it was often because I didn't know what problem a character was facing in the story. As soon as I did, I could have the character trying to do something about it or have the problem whack him between the eyes."

@Morris Gleitzman

♨️
"My schedule can be hectic, so I'm always trying to find time to see my friends and family."

@Jessica Szohr

♨️
"I consider myself someone who takes a lot of beauty risks, and I've realized what I liar I am. I change my hair a lot, from blue to blonde to bald, but I'm trying to branch out a little more with makeup."

@Halsey

♨️
"I've been saying it before the lottery before the Phoenix Suns even had the No. 1 pick. I've just been talking it into existence. I'm not saying I'm the best player in the draft and trying to be cocky like that, but I was just saying I'm going to be the No. 1 pick, regardless."

@Deandre Ayton

♨️
"I have yet to have a successful outcome of sitting in a room with someone and trying to write a song. The way that I generally co-write is that someone else writes the music or part of the music."

@Shawn Colvin

♨️
"I sequence during the entire recording process. The sequencing changes as I'm recording and as I'm listening. From when I'm, like, four songs in, I start trying to figure out which song should come after which. Which is important, and it changes as the album goes."

@Dr. Dre

♨️
Quotes About Trying Again
"I think the years on 'The Donna Reed Show,' the years from 14 to 19, were so incredibly important. Donna Reed was simply an extraordinary woman, a woman of great strength, kindness, integrity, and compassion. I am not trying to make her sound like a saint, but she had the most profound influence on me. I carry her with me today."

@Shelley Fabares

♨️
"I'm always trying to prove myself to the rest of the world."

@Robert Whittaker

♨️
You May Also Like To Read: How Today Quotes Can Improve Your Life
"I do believe that freedom isn't free – but today the corporate and political right-wing is trying to cheapen this truly American value. They've been cynically using the word 'freedom' to rally the American public against its own best interests."

@Richard Trumka

♨️
"Parents are trying to be friends with their kids rather than draw the line and tell them what proper public behavior would be."

@Gallagher

♨️
"I'm trying to be better every single day."

@Myles Garrett

♨️
You May Also Like To Read: Instagram Captions for Love That Will Change Your Life