Find the famous quotes and sayings about bdsm quotes with images from our collection at Todayquote. You can read, download, copy and even share it on Facebook, Twitter, Instagram, WhatsApp, LinkedIn, Pinterest, Reddit, Tumblr, etc. with your family, friends, colleagues, etc. The available Images of bdsm quotes can be used as your mobile or desktop wallpaper or screensaver. Also, don't forget to check out the bdsm quotes of the day.
Romantic BDSM Quotes to Live Your Life ideas
"Funishment – not truly discipline."

@Cherise Sinclair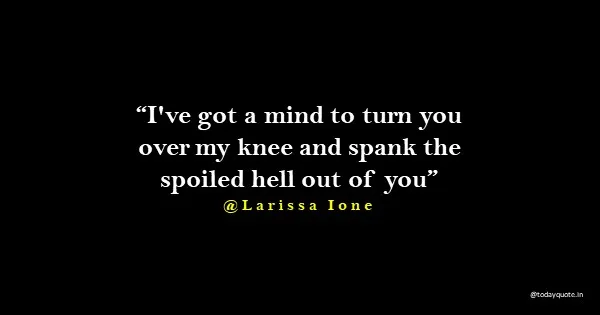 "You call the police if your car gets stolen. You don't call them for anything that matters."

@Tiffany Reisz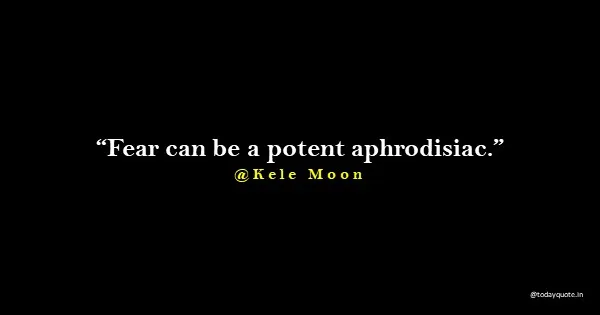 "You, lass, have a self-image problem." Well, that might be a little true, but she also had a mirror."

@Cherise Sinclair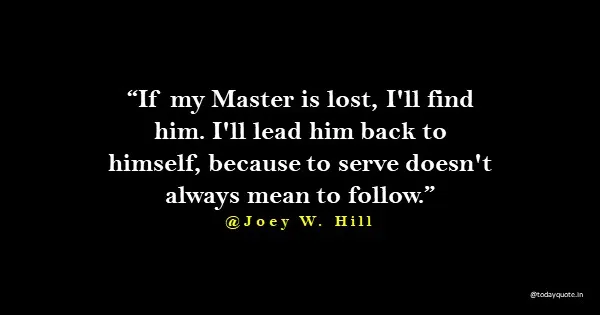 "My new and improved Golden Rule: Dom unto others as you would have God Dom unto you."

@Michael Makai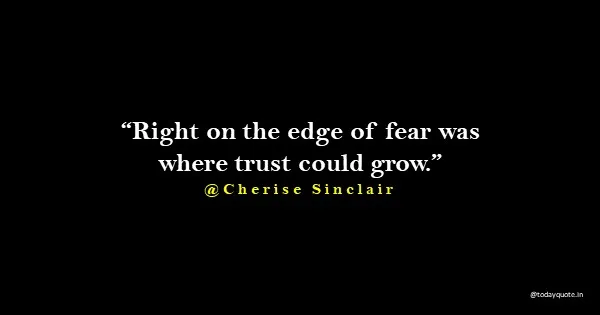 "The leather community is largely anarchistic and shares a healthy distrust of power and arrogance."

@Geoff Mains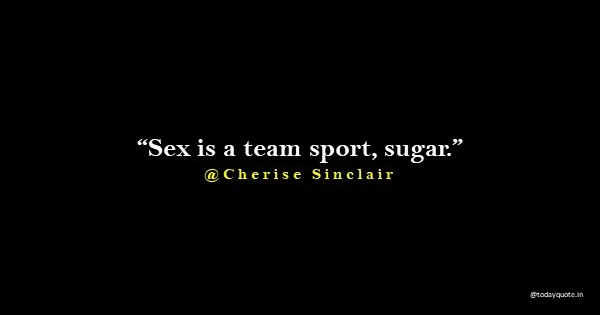 "She saw the shallow lines beaded with blood in her long mirror, and when he told her that she was beautiful, she believed him."

@Astrid Knowles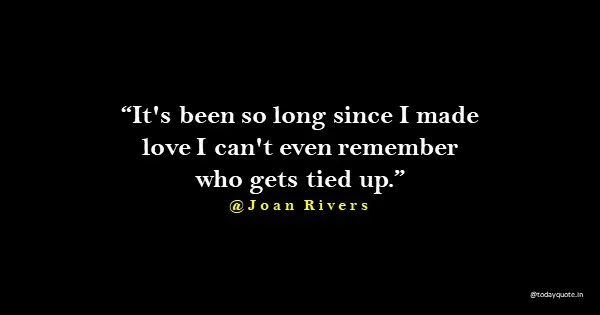 "Aren't you ready to experience the emotional side of a D/s relationship? For a real taste I suggest On Becoming His – one woman's emotional journey into being owned."

@Cassandre Dayne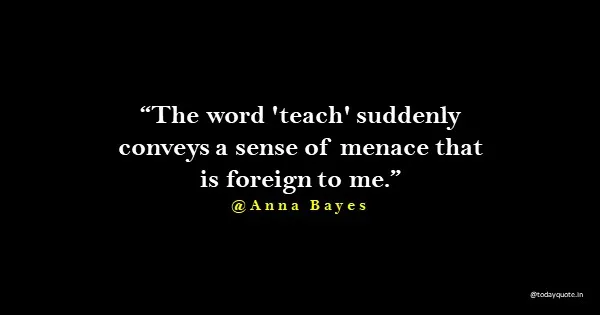 "My head drops back and I have a fleeting out-of-body moment where I see myself in the window, my hands tied above my head with my legs wrapped around the neck of Chris Merit, while he does delicious things to my body."

@Lisa Renee Jones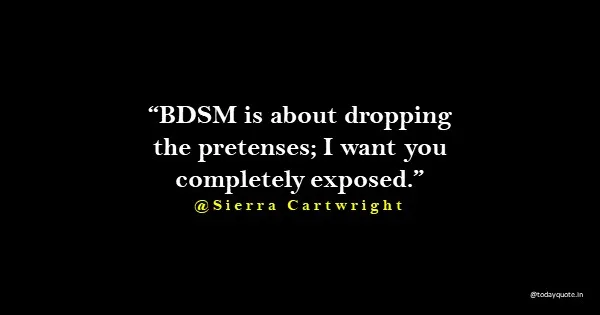 "We've been down the road of your hasty exits too many times, Mrs. Danvers. You married your master, and you married a sadist–of your own free will. You might remember that when you're tempted to walk out in a huff, defy my orders, and behave like a selfish brat. You got that?"

@Lizbeth Dusseau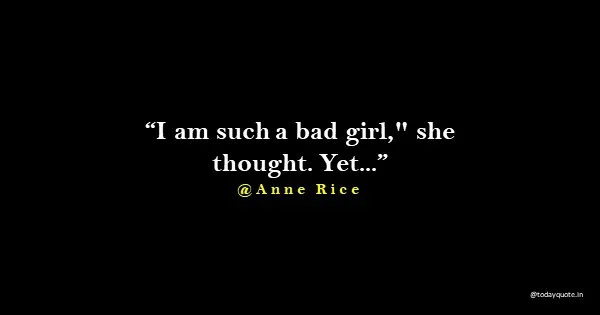 "You only get what you give away."

@Jade Onyx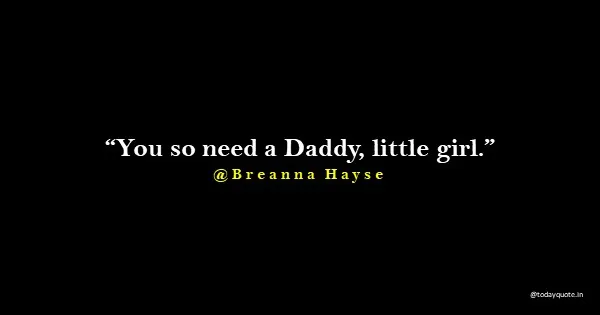 "What are you doing?" Her voice shook. "Whatever I want, sweetheart."

@Cherise Sinclair
"That's enough naughty girl," you say in a mocking tone, "I am going to put you over my knee and spank you for being such a bad wife tonight. It will hurt, but you're going to enjoy it a lot more than you'll admit…"

@Felicity Brandon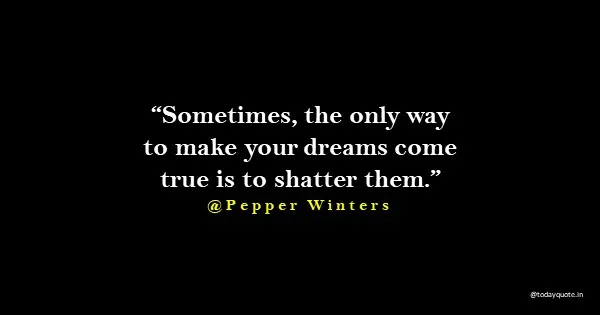 "Submissive men, men who desire to serve as consensual slaves, are on one of the most difficult journeys in the world today, because they have rejected patriarchal privilege and embraced their own heart's calling instead."

@TammyJo Eckhart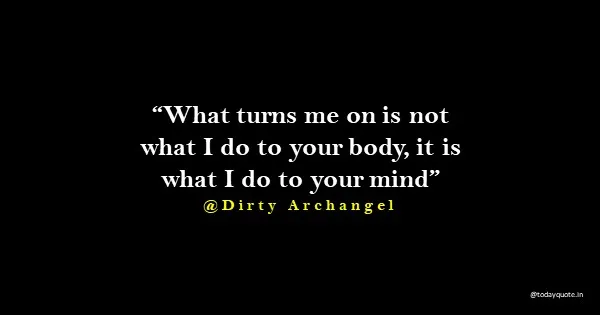 "Let's just say Noah and Flynn enjoy the chase, and when they catch their woman, they keep her tied so she stays caught when they play."

@Fiona Archer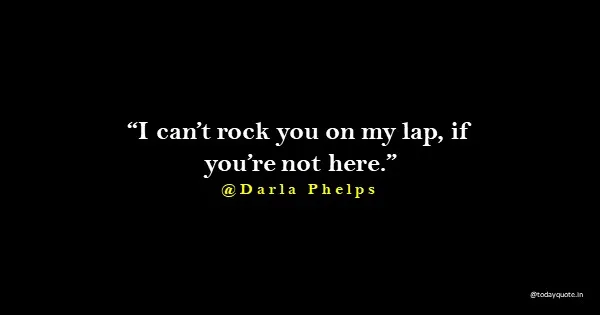 "I'm happy to see that we're stopping to eat some dinner, since we didn't actually eat lunch today. Instead we just argued, I pouted, slapped him, bojo'd him, and then I came like a freight train. I've had a very busy day."

@Ella Dominguez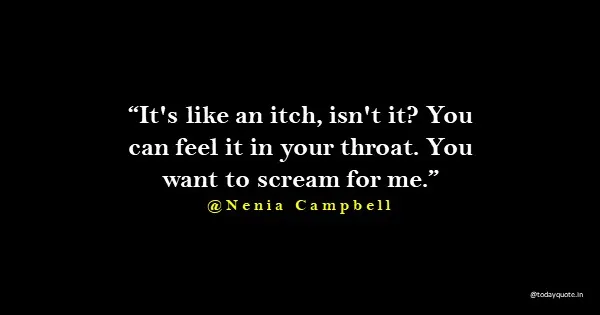 "Papa, you were right. Love did come after security."

@Jade Onyx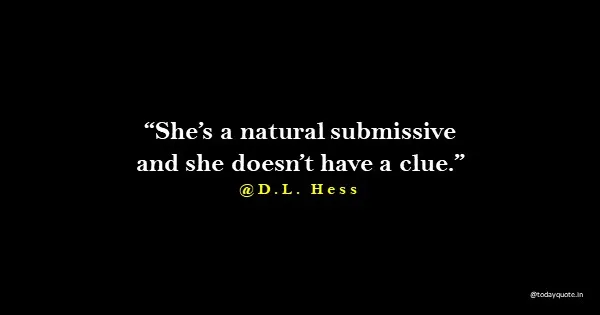 "You have a gorgeous ass, and it holds handprints beautifully." Oh, well, how nice for me."

@Cherise Sinclair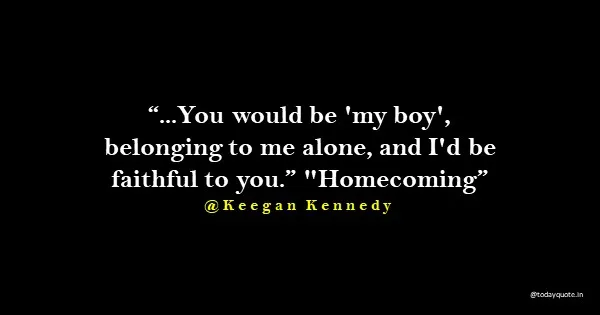 "You'd better run, little bunny…before the big bad wolf catches you."

@Aileen Rose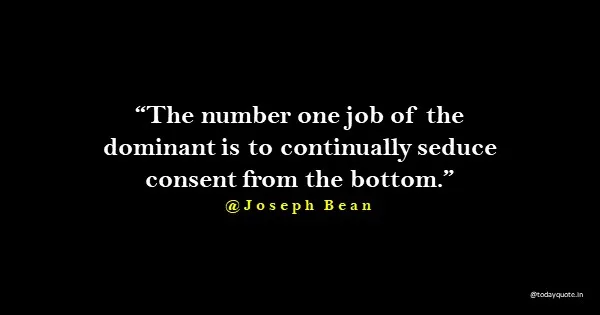 "What are you doing?" "Whatever I want."

@Cherise Sinclair
"Do not censor yourself. Let go of that part of your brain and just be."

@Red Phoenix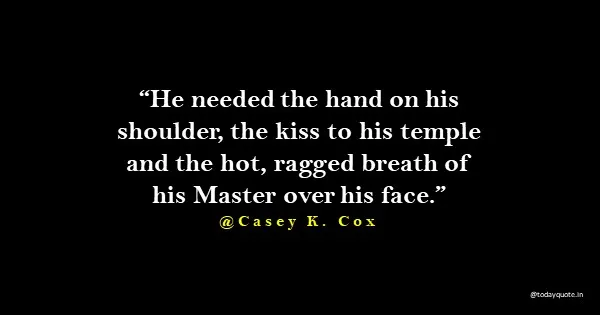 Short Love Quotes about Bdsm Sex
"You don't speak again, unless to use your safe word or yellow to indicate you're frightened."
"I was at yellow the minute I walked in the door."

@Cherise Sinclair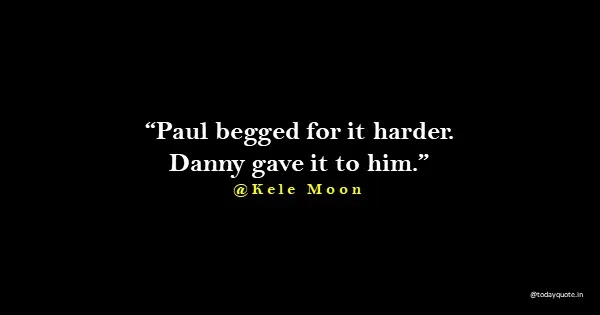 "You are the playground of which I have free reign."

@Nenia Campbell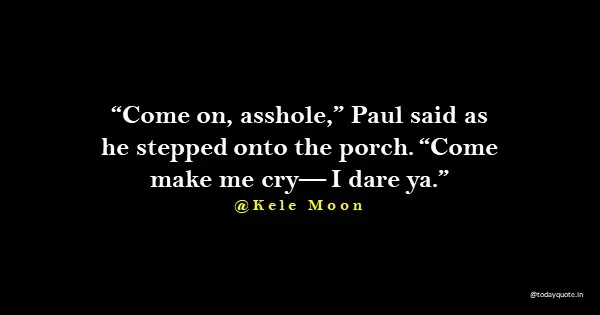 "This is going to hurt, isn't it?" "Yes, it is." "Am I allowed to call you names?" It was very very hard not to laugh. Impertinent little brat."

@Bianca Sommerland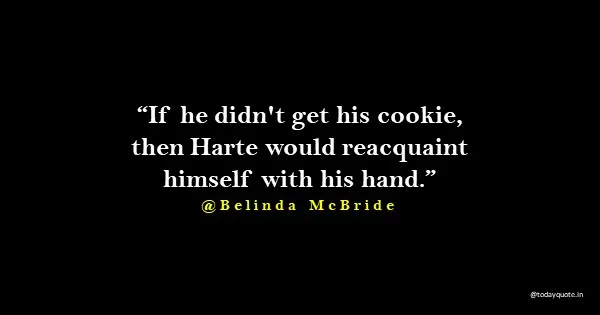 "Be confident in who you are, Cherry Blossom. Confidence and an understanding of who you are is an alluring combination men won't be able to resist."

@Red Phoenix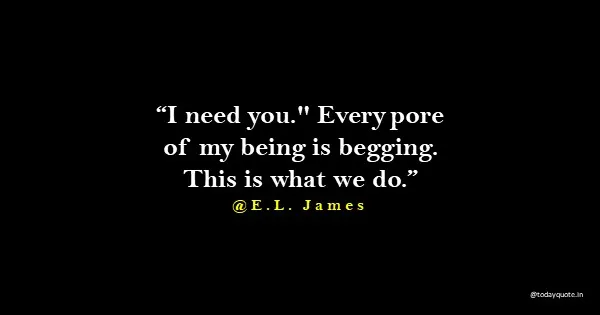 "Heck, that woman out there looked like she was getting more from one kiss than Jessica had ever gotten from the whole insert-dick-move-around shebang."

@Cherise Sinclair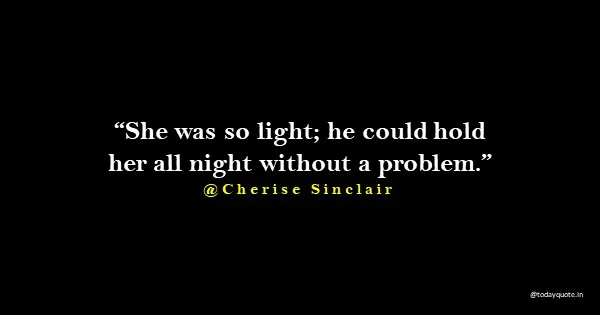 "I am pleased," he said with a rich throaty accent. My heart melted. Simple as they were, those three little words meant the world to me."

@Red Phoenix
"Now, can I help you with something? I'm new, but I'll do my best to figure out how to get what you need." "That's good to hear, Abby, since I need your breasts for a few minutes."

@Cherise Sinclair
"It doesn't matter what you want," Toreth breathed into his ear. "All that matters is what I want. Say it."

@Manna Francis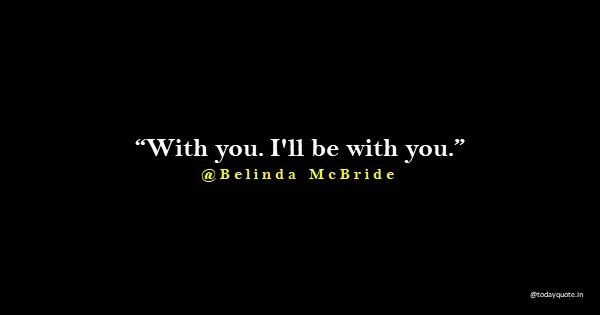 "Why had she set limits like no sex? I want sex."

@Cherise Sinclair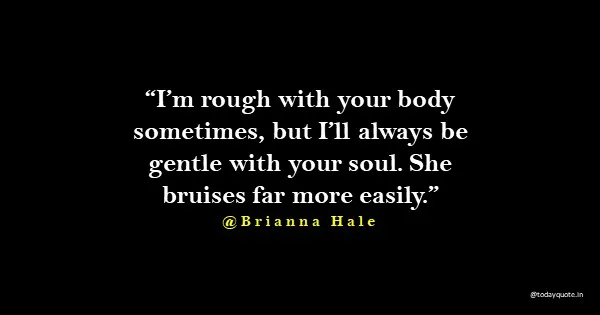 "Children bring life to the soul."

@Red Phoenix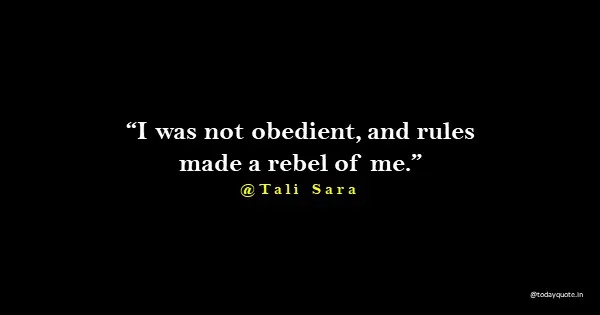 "No, no, I don't want that." "I didn't ask."

@Cherise Sinclair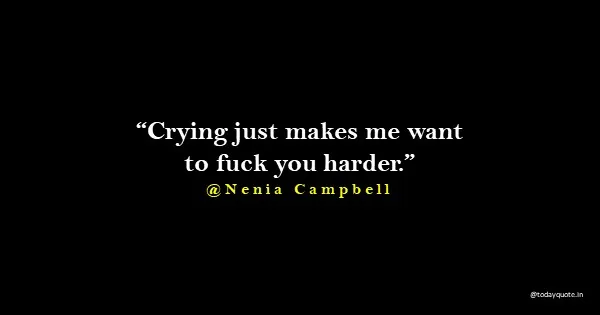 "A Dom intent on developing a relationship will approach you on a personal level first."

@Red Phoenix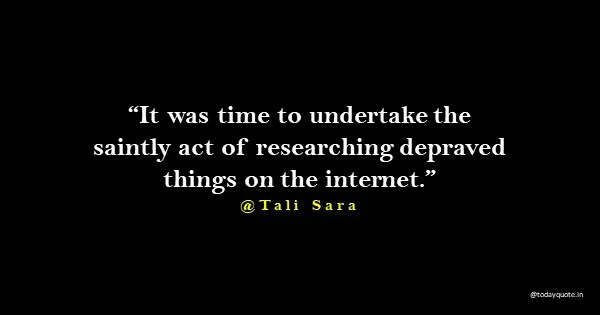 "To have to perform a scene, a punishment scene like that, was extremely unpleasant. It bothered me to hurt you, Jessica," he growled. "You will let me hold you, and offer me some comfort in return."

@Cherise Sinclair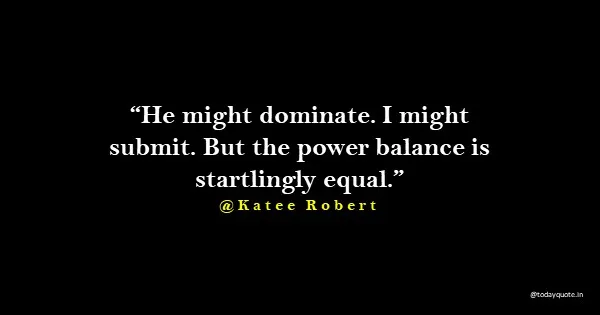 "I'm no mystery; I'm just a simple woman with complex fantasies and fetishes."

@Ella Dominguez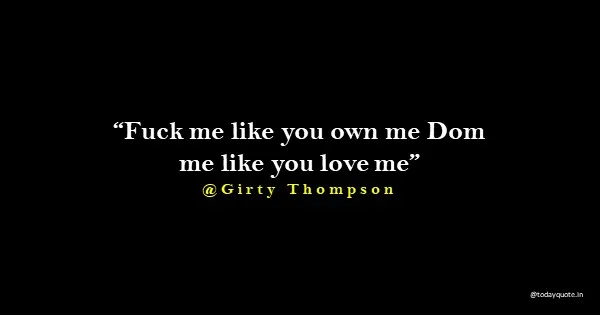 "A little insecurity in a submissive wasn't a bad thing, but her doubts shouldn't be whether the Dominant cared."

@Cherise Sinclair
".. any Dom who doesn't promote open communication is not developing a healthy relationship."

@Red Phoenix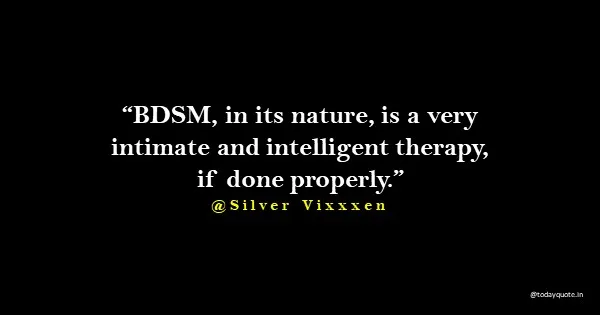 "We were in the middle of a scene, and this crazy woman comes roaring out of the crowd, screaming, grabs my whip, and damned if she didn't punch me." Rubbing his reddened chin, the man's lips curved a little. "It's almost funny, but still, she ruined our scene."

@Cherise Sinclair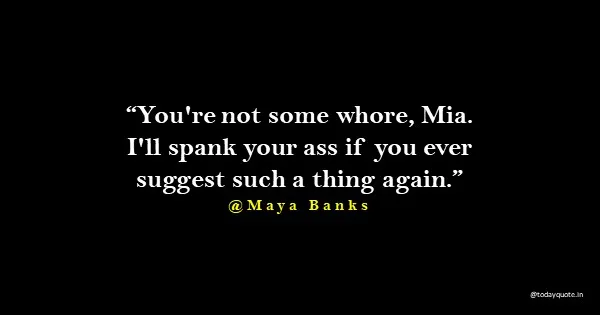 ".. Avoid any Dom with a large ego. Do not mistake arrogance for confidence."

@Red Phoenix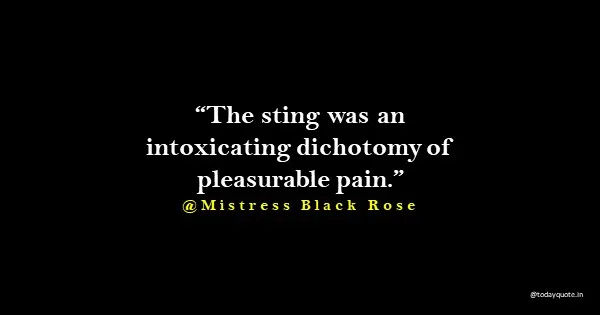 "We're wasting time here. I've got a sweet ass to paddle. Some legs to spread…"

@Starla Kaye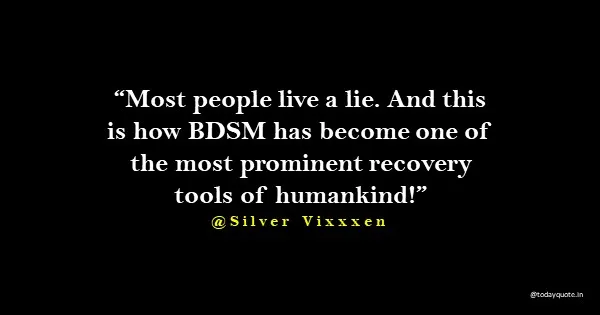 "Do not shy away from the sensations I create, Cherry Blossom. Take pride in them, as I do."

@Red Phoenix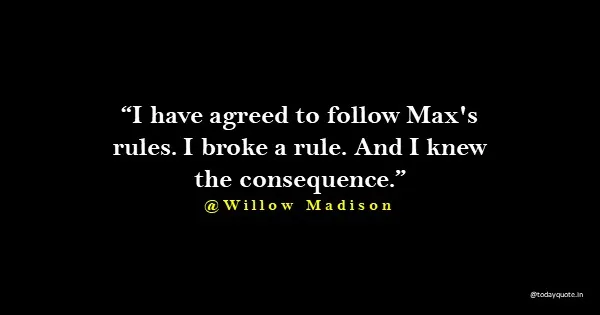 New Bdsm Quotes Sayings
"I need your submission too, but only if it's real. If you're really not feeling it, then don't pretend. Make me earn it."

@Bianca Sommerland
"I feel a deep sense of responsibility when I awaken a submissive. I know the imposters who prowl hoping to pounce on the untried."

@Red Phoenix
"No. No, I don't want my hands restrained." "Yes. You do."

@Cherise Sinclair
"Socrates held up his hands, wiggling his fingers. "God gave me these hands to change the world, one child at a time."

@Red Phoenix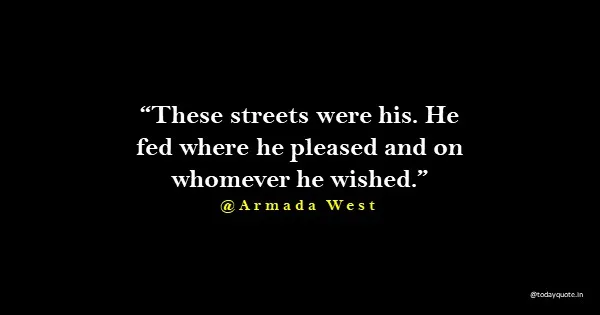 "My cousin fell in love with a dom, so I checked into it to see if I needed to kill him before they got married."

@Cherise Sinclair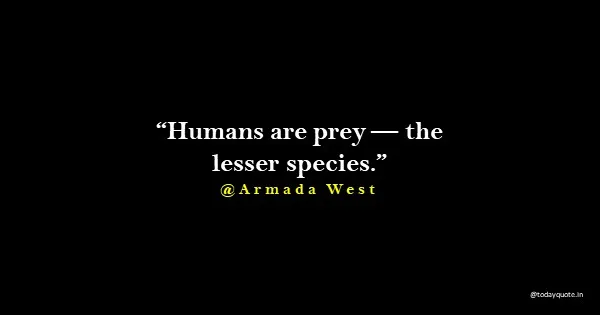 "Manly? And what would a kid like you know about manly? Have you even started shaving yet?"
"Only my balls, sir."

@S.J.D. Peterson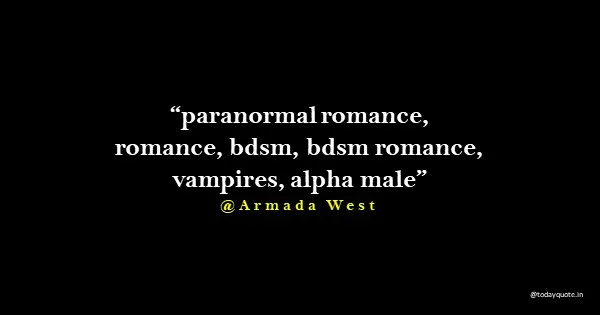 "When I want to." He ran his finger over her lips. "You don't get a vote, honey."

@Cherise Sinclair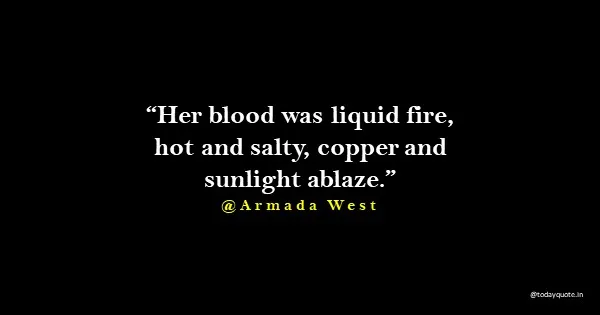 "People who ask for more than I'm willing to give end up with nothing."

@Jane Davitt Alexa Snow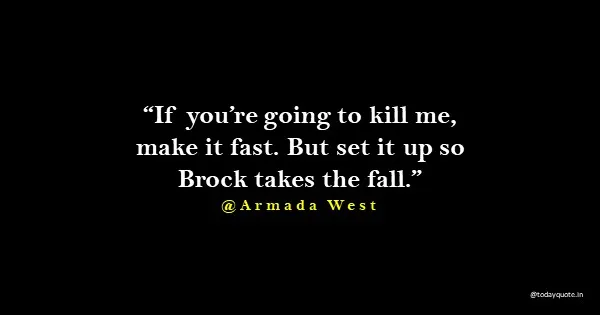 "Put me down." "Nope." He held her snuggled to his bare chest, tipping her up so he could rub his cheek against hers. "I like carrying you."

@Cherise Sinclair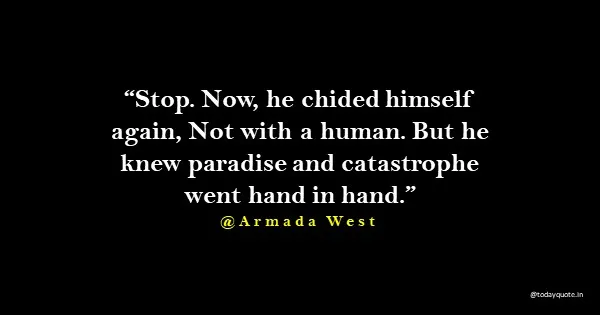 "You have no idea what you have just unleashed, boy."

@S.J.D. Peterson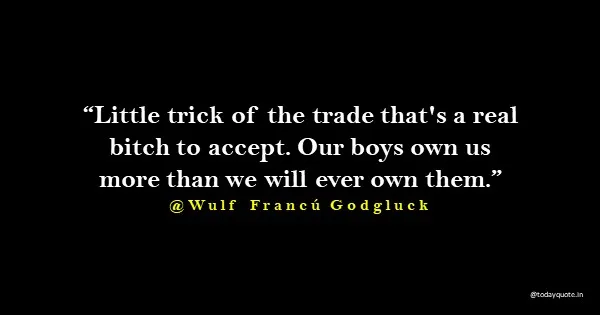 "Given involuntarily, and in an atmosphere of distrust, pain is torture, whatever the motive," suggests David. "But given consensually, between equals, pain can be a most incredible form of love."

@Geoff Mains
"Hmmm," you muse out loud. Your voice is deep and carnal, a sound which sends new surges of desire rushing to my sex. "These balls are awfully dusty – if only I knew a little slut who was good at polishing balls…"

@Felicity Brandon
"He caught her staring and smiled-not a conceited I-work-out-and-have-a-great-body type smirk, but more of a I'm-a-boy; you're-a-girl; life is good."

@Cherise Sinclair
"Get on your knees. I want you to feel me so deep that the belt is of little consequence when it comes to breathing."

@Alaska Angelini
"Damn, you're soft. I have trouble keeping my hands off you." Okay, serious melty stuff."

@Cherise Sinclair
"I don't want your best. I want your everything."

@Ella Dominguez
"Use your safe word if you get scared, honey." "I'm fine." Her voice came out husky. "Yes, you are, aren't you?"

@Cherise Sinclair
"You're giving me fucking consent to stalk you? Oh, slave…"

@Alaska Angelini
"More." "You'll get more…but it'll be my way, not yours."

@Cherise Sinclair
"Consider yourself taken, sweetheart."

@Jacintha Topaz
Famous Sexy Bdsm Quotes
"Okay?" Even if she deserved to be punished, he always let her know he cared about her."

@Starla Kaye
"Don't make me slap your pussy."

@Jacintha Topaz
"The collar represented something of big importance to her. He knew she saw it as losing who she was. He saw it as her trusting him enough to let him be in charge."

@Starla Kaye
"Mary was the darkness to my monster. The blood to my blade."

@Alaska Angelini
"I won't have people judging you because of this."

@Bianca Sommerland
"Let me show you…if you dare."

@Alaska Angelini
"Here," I said, shoving the board into his hands. He started laughing. "WHAT are you laughing at?!" I demanded irritably. "Well, it's just that… that's going to hurt a bit, my dear. Go on, bend over. I'll demonstrate."

@Sadey Quinn
"I'm here to deliver what you need."

@Jacintha Topaz
"Your hatred is my foreplay." – Julian King"

@Z. Stefani
"That's it? That's all that happens after you topple from grace? We lose our rubies and rations?" Marshall smirked. "Woe is me."

@Sophie Avett
"How many spanks have you had, Julia?" Damien asked. "Two, Sir." "What colour are you on?" "Mortification," she mumbled."

@Sierra Cartwright
"Give me your wrists, Alayna. I sense your impatience, and I know exactly where you intend for those hands to go."

@Scarlet Wolfe
"Keeping me a virgin waiting for him for so long proved he owned me even more than fucking me would have."

@Tiffany Reisz
"Oh, was that what you meant? I figured you were speaking of your manner of whoring. I should have known you were wanting to fuck me too."

@Sai Marie Johnson
"God, he was an evil bastard, but boy was he good!"

@M.F. Roberts
"Vanilla is fine but Kink is so much better…"

@Annie Edmonds
"The idea makes a lot of people uncomfortable. […] It's hurt a great many people and been responsible for a great deal of misery. But, to my mind at least, that doesn't mean it can't now bring pleasure to someone."

@Manna Francis
"The only way I'm letting you go is off."

@Jacintha Topaz
"He's not a monster, he's a teddy bear," Eve said defiantly. "He's my teddy bear. I don't want you to hurt him. I want you to fix him." "There's nothing to fix," Danny said. "Paul's not broken."

@Kele Moon
"It was damn hard leaving you," he said. "I was afraid that if I didn't, you'd be killed or tortured, or we both would." -Kathy Kulig, Red Tape"

@Kathy Kulig
Medium Bdsm Quotes for Her
"His look darkens and he heaves me against his chest forcing me to look at him. "What I do know is that you are disrespectful and disobedient. And that is something that we have to change, don't we?"

@Aileen Rose
"The craft of a master is not imposing dominance, but winning submission."

@Ann Somerville
"It's just not as hot without biting, scratching, and spanking, involved."

@Jennifer Salaiz
"A woman isn't a whore for wanting pleasure. If it were unnatural, we would not be born with such drives."

@Nenia Campbell
"Please, Sir, make it hurt."

@Ella Dominguez
"In my experience, the romance novels written about BDSM have about as much in common with actual BDSM relationships as a child playing with a jump rope."

@Nenia Campbell
"I want to discover every hidden secret of your body and a thousand ways to make you scream my name."

@Jennifer Probst
"How far will you run, before you realize you're not running away from me? You're running to me."

@Joey W. Hill
"You've done proper already, and it hasn't worked. It's time you do dirty."

@Jennifer Probst
"I know, darling. Your body speaks to me in ways your mouth would never agree to confessing."

@Sai Marie Johnson
"Educating the mind without educating the heart is no education at all. André Chevalier"

@Nikki Sex
"I've told you before, ma chérie, love is not about submission. It is the willingness to give of yourself. That is a great power and gift, if you allow yourself to wield it."

@Monica Burns
"Yes, she fears the cuffs, the cross, and the whip, but she will get past this. Such problems, even with time, do not go away on their own. They must be addressed.
André Chevalier"

@Nikki Sex
"You yank my hair back even harder, creating a sudden hurt which nearly topples me over the edge of the precipice. "Look at me whilst you beg me, little one…"

@Felicity Brandon
"I decided quickly that committing crimes against grammar was a hard limit for me."

@Sophie Morgan
"Silence fills the sweet walk from the park. Our first encounter buzzing between us in the dark winter night. Holding your hand we know the connection, the special bond that has grown between two souls…"

@Benjamin McQueen
"In my eyes, BDSM is not a sexual experience, it's a spiritual connection."

@Simon Shroud
"Relinquishing control to another person is like death: it's only scary until it finally happens."

@Agnostic Zetetic
"A Dom never takes away. He only builds."

@Delaine Moore
"He pulled my head back further, and I could hear his ragged breathing as his mouth came close to my ear, sounding so desperate for me. God, I was turned on so much…"

@Fiona Thrust
"Much though we like these panties," he says, tugging at the small material covering my pulsating sex, "they're only going to be in the way…"

@Felicity Brandon
"Spanking is a one handed round of applause in appreciation of a magnificent Ass."

@Anonymous
"I was craving a chance at the lifelong fantasy, and I had that. That was a one-off thing. I was looking for an experience, Eric, not wanting to cultivate a habit."

@Nikki Sex
"I was not merely cleaning an oven; I was improving the world."

@Agnostic Zetetic
"She knew it wasn't right, but this was the second time in her life when hurting a man's feelings trumped assuaging her own."

@Riley Murphy
"I was alone in this discovery because it was my secret, my private exploration."

@Paloma Beck
"He was a predator – a big, scary, hot-looking predator. And I wanted to be his prey."

@Wulf Francú Godgluck
"Shy, I can't be fixed. We won't ride off into the sunset. There will be no happy ending."

@Nina G. Jones
"And if we're talking flaws – I get a kick out of flogging people, then fucking them." Warmth ran up Sam's spine. "That's a flaw?" Michael grinned. "Only to some."

@Anna Zabo
"His last thought flashed like a mantra over and over again. Let the challenge begin."

@Jennifer Probst
"There is, in fact, no safeword for chemical burns under one's fingernails."

@Agnostic Zetetic
"I want to spank you, but also want to know you want it. I need to hear it sweetheart, tell me you deserve it…"

@Felicity Brandon
"She said my glasses made me look like a butch jock's locker room bitch."

@Nenia Campbell
"You are something different – something some people find strange and fearful – but what you are is as natural as being male or female."

@Tiffany Reisz
"There is a certain loveliness, I think, to performing deep cleaning in one's underwear on a beautiful summer day."

@Agnostic Zetetic
"Bottoming doesn't make you a submissive any more than standing in my kitchen makes you a cook. By the way, while you're there, please make me a sandwich."

@Michael Makai
"A woman's magnetism is not a body measurement."

@Riley Murphy
"That was some powerful shit. Like mind and pussy-numbing, fuckilepsy inducing, reproductive organ-exploding powerful. You really are some kind of flogger wielding sex God."

@Ella Dominguez
"A woman's sex appeal has more to do with what other people think she has than what she actually has. It's the relationship and reputation she has with herself that I find desirable."

@Riley Murphy
"Baby, I held back today to let you get over all you've been through. But don't let that mislead you. You wouldn't be here if I planned on protecting you from me."

@Lisa Renee Jones
"Lord. How many antidepressants can one person take? However much it is, I'm going to need the maximum dose if I make it out of this alive. -Dani Springman."

@Baylee Crush
Thank you for reading all about bdsm quotes. Hope you like it!
You May Also Like to Read: 147 Best The Latest Everything Everywhere All At Once Quotes
You May Also Like to Read: 21 Sexy BDSM Love Quotes About D/S Relationships To Make You Purr